Specialty Pizzas
All pizzas are made to order and hand-tossed with our signature crust.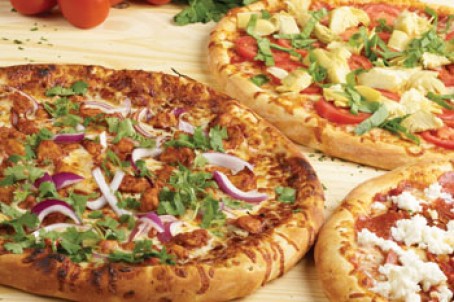 Casalinga Pizza
Garlic, pepperoni, sun-dried tomatoes and ricotta cheese.
Big Man Special
Pepperoni, ham, mushrooms, olives, onions and green bell peppers.
Romana Pizza
Artichoke hearts, tomatoes, basil and Italian herbs.
Margherita Pizza
Garlic, fresh tomatoes, basil, buffalo mozzarella.
Capers Pizza
Mushrooms, capers, sausage, herbs, olive oil.
Torino Pizza
Caramelized, onions, Gorgonzola, spinach, olive oil and herb base.
Pesto Sausage Pizza
Crushed tomatoes, roasted garlic, green onions, mozzarella and Parmesan cheese.
BBQ Chicken Pizza
Hickory BBQ sauce, cilantro and red onions.
Shrimp Pesto Pizza
Tomatoes, pine nuts, basil and pesto base.